Cruinniú na nÓg 
Saturday 23rd June is a national day of creativity for our children and young people. It is a day when all over the country they get the opportunity to take part in a multitude of free cultural and creative activities. Here in Co. Wexford there will be over twenty free events for children, young people and family groups  in the towns of Wexford, New Ross, Gorey, Enniscorthy and Bunclody.
Access the Cruinniú na nÓg brochure here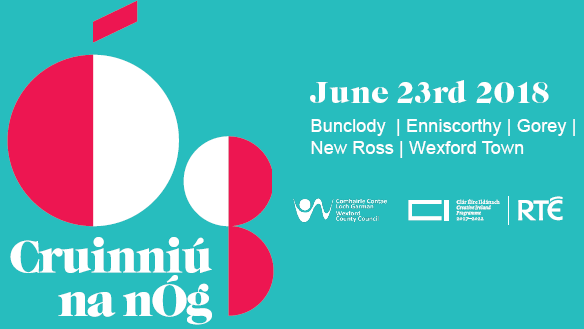 Read more about the Festival and how it is being celebrated right across Ireland here: https://creative.ireland.ie/cruinniu/
---
Government's Legacy Programme for Ireland 2016
A five-year initiative, 2017 to 2022, which places creativity at the centre of public policy. This high-level, ambitious government initiative aims to mainstream creativity in the life of the nation and ensure that individuals and communities are supported to further develop talents, creative enterprises, cultural infrastructure and experiences.
View the Creative Ireland Wexford - Culture & Creativity Plan