Funding for the Per Cent for Art Commission – M11 Gorey to Enniscorthy PPP Scheme has been allocated to the following Artists:
Christine Mackey, Maria Mc Kinney and the artists collective 'Dispatch' – comprising artists Ciara Roche, Becks Butler, and Astrid Newman 
1.    Dispatch - Artists Collective:
Dispatch took place over the 2019 June Bank Holiday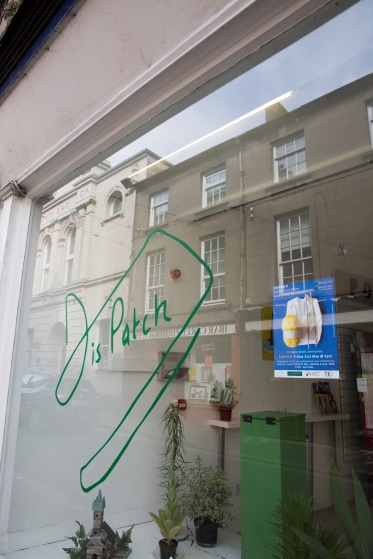 Dispatch took place over the 2019 June Bank Holiday weekend to coincide with the Enniscorthy Strawberry Fair.  The project took its form as a post office, installed in an empty shop unit on Castle Hill, Enniscorthy.  In the lead up to the installation the artists worked with over 30 community groups in Enniscorthy to collect a selection of objects, each one with its own historical, social or environmental significance. Images of the objects were printed onto postcards, which were free to send anywhere in the world for the duration of the installation. Visitors were welcomed into the space and invited to send a postcard or two and enjoy a free tea, coffee. They collected objects which moved in slow rotation on a conveyor belt, visible from the shop window and built in collaboration with Enniscorthy Men's Shed. In addition Audio recording of interviews with the 30 community groups that took part could be listed to on ipads installed in the space. 
Over 2000 post cards were printed  and distributed   free of charge  to the public over  the  weekend. Over 100 people attended the launch, which included music and dancing from local groups. Over the weekend the Pop Up post office was attended by over 1,000 locals and visitors to the festival.
Click to view video of the Dispatch project as on publicart.ie here 
Becks Butler is a Lens Based Artist and Curator. Her research explores subject, post human, human behaviours and origins. Becks exhibited her solo show at illuminations (2017) and has presented work in various group shows. Becks was recently Curator for Vera Ryklova's  'Aesthetic Distance' at Triskel. Her collections have been purchased by the Royal Irish Academy and various private collectors. 
Astrid Newman is a Performance and Video Artist, based in Co.Wicklow. She has exhibited and performed in numerous spaces including Rat Hole Gallery, Tokyo; Newlyn Gallery, Cornwall; Glebe House, Donegal and The Fruitmarket Gallery, Edinburgh. She is currently a Curatorial Research Assistant at The LAB Gallery, Dublin and is co-founder of conch.fyi, an online platform publishing weekly artists' interviews. 
Ciara Roche is a Painter based in rural County Wexford. She has shown extensively in group shows throughout Ireland and had a major solo show in Lismore with Lismore Castle Arts in 2016. Her work is in many public and private collections throughout Ireland, Britain, USA and China.
2.    Christine's Mackey - 'Safe Hold – Pollinators Pastures' – Art Project  
Safe Hold comprised of Christine working with on sites in Gorey and Enniscorthy and with local communities and bee-keeping associations in Wexford County to raise awareness about the plight of bees or wild pollinators in a project called Safe Hold – Pollinating Pastures. She focused on bees, their habitat loss, and their relationship to food, place and people. One of the outcomes is permanent pollinating pastures to be developed with local communities in collaboration with Ecologists, Wexford County Council Road Department and local authority/Biodiversity Planning Officers.
Culminating from a 2 week work camp with Gorey Youth Reach an Exhibition in July, 2019 took place in Gorey Library which focused on biodiversity and flora fauna loss.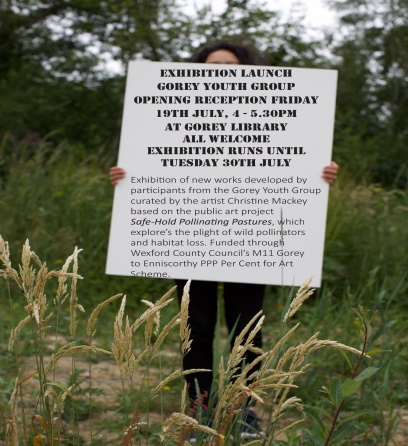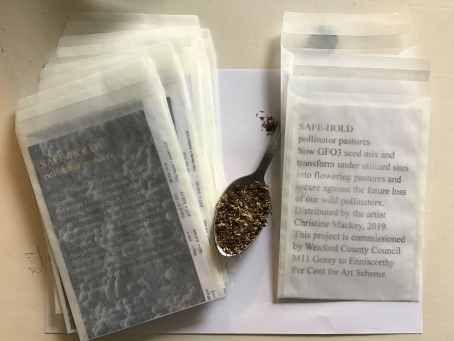 Christine worked with Enniscorthy Municipal District and Roads Dept. to identify sites for planting with native wild flower   seeds around the town and on road sites . Christine also developed seed packets which she distributed around via the   libraries in Gorey and   Enniscorthy.
   
On 28th February, 2020, Wexford Art Centre hosted a large scale exhibition of new work developed by Christine from this M11 commission in Enniscorthy and Gorey. The exhibition was opened by Author & Journalist, Paddy Woodwork.  In partnership with the Arts Office, Christine hosted a talk on biodiversity and seeds with invited expert speakers and published an exhibition brochure highlighting the M11 commission. 
Christine Mackey is studio based at Leitrim Sculpture Centre, she completed a Fulbright Creative Research Scholarship Award in 2018 pursuing independent research at institutions across the States including Art & Ecology Department, University of New Mexico; Botanic Gardens Steere Herbarium, New York; Native Seed Savers, Arizona; WormFarm Institute and GUMZ Peppermint Farm, Wisconsin. Christine has participated on a number of residency-exhibition programmes including the Museum of English Rural Life, The Observatory SPUD, ArtsSway (2017); The Politics of Food, Delfina Foundation, London (2015). 
Awarded a GB18 exhibition grant to exhibit new works developed on the Tree Charter Residency Programme curated and commissioned by Common Ground, England and exhibited at The Bothy Gallery, Yorkshire Sculpture Park (2018). She received a Bursary Award from The Arts Council of Ireland in 2018 to develop new work for a solo exhibition 2010.
3.    Maria McKinney 
Maria's project comprises of working with farmers in the Gorey and Enniscorthy areas, to develop a project that responds to memories of these farms, while thinking abou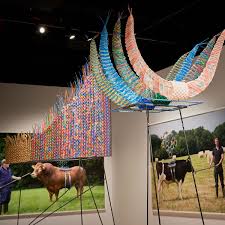 t contemporary agricultural innovations from the perspective of the future. 
Over spring/summer 2019 Maria made contact with individual farmers and visited over 10 farms in both districts where she interviewed each farmer, took a tour around the farm and discussed agricultural practices both past and present with each farmer. 
Maria has developed a series of large wearable sculptures inspired by each participating farm. These have been be activated by being worn and documented in situ when the Maria returned  to each farm in Autumn 2019. The developed sculpture and photograph works out of these engagements will become part of a large scale exhibition to take place in Wexford and galleries nationally in 2021. 
Through this project her aim was to question the idea of progress at a time of great environmental change, and wonder about the possibility (or not) of communicating far into the future.  
Maria McKinney is a Visual Artist from Donegal and currently based in Dublin. Her work explores the impact of human intervention on the natural world, often bringing together unusual contemporary materials and traditional craft techniques.
Her body of work Sire was included in the exhibition Somewhere in Between at the Welcome Collection, London in 2018. She has made a number of solo exhibitions including the RHA, Dublin, Ireland (2016) Lokaal 01, Antwerp, Belgium (2016) La Permanence, Clermont-Ferrand, France (2015), the MAC, Belfast UK (2012) the Lab, Dublin, Ireland (2010) and the Context Gallery, Derry, UK (2008).
She has received a number of awards, including from the Welcome Trust, Arts Council of Ireland, and Arts Council of Northern Ireland and was shortlisted for the MAC International Prize 2014.In 2019 she will realize a new project exploring the Jersey breed of cattle on the island of their origin. Her work will also be included in Art's Work in the Age of Biotechnology, a group exhibition at the Gregg Museum, North Carolina, USA