Reimagining Enniscorthy is public art & community decarbonisation project, taking place in 2022-23 throughout Enniscorthy town. It's a collaborative, place-based response to the climate crisis, and a creative exploration of Enniscorthy as Wexford's pilot Decarbonisation Zone.
This public art project is jointly funded through the Wexford County Council's Per Cent for Art Scheme and Creative Ireland  Programme.
Helping to create a local ecology network for people-led climate action, connecting neighbours and community groups in Enniscorthy with each other, and with local food producers, environmental groups, artists and craftspeople, so a conversation can be started about  food - where it comes from, how we grow it, and the environmental impact. 
                   
                     
Currently part taking in the community planting:
Slí na Slaine/Andy Doyle, Bridgemeadow, Pairc na gCon, and the  County Wexford Community Workshop's Residential Community Designated Centres.
                  
Upcoming dates for your diary:  
• Community Orchard Day – Saturday 4 March 2023 – Temple Shannon Community Centre, Enniscorthy 10am – 4pm – morning talk and afternoon planting booking links attached
    https://www.eventbrite.com/e/community-orchard-workshop-tickets-565302684547
• Community Orchard Week 6-10 March 2023
• Climate Café is Thursday 30th March 2023 10.30 – 12 noon - in Wilds Café in Enniscorthy
• Biodiversity walk postponed to April or May
• Free Seed Hub banks – ongoing in various centres in Enniscorthy including the Presentation Arts Centre, Enniscorthy Library and Community Allotments
• Final Exhibition / Showcase – Saturday 17th June 2023 @ 3pm in the Presentation Art Centre Enniscorthy. Running until 30 June 2023
            
                  
Other initiatives: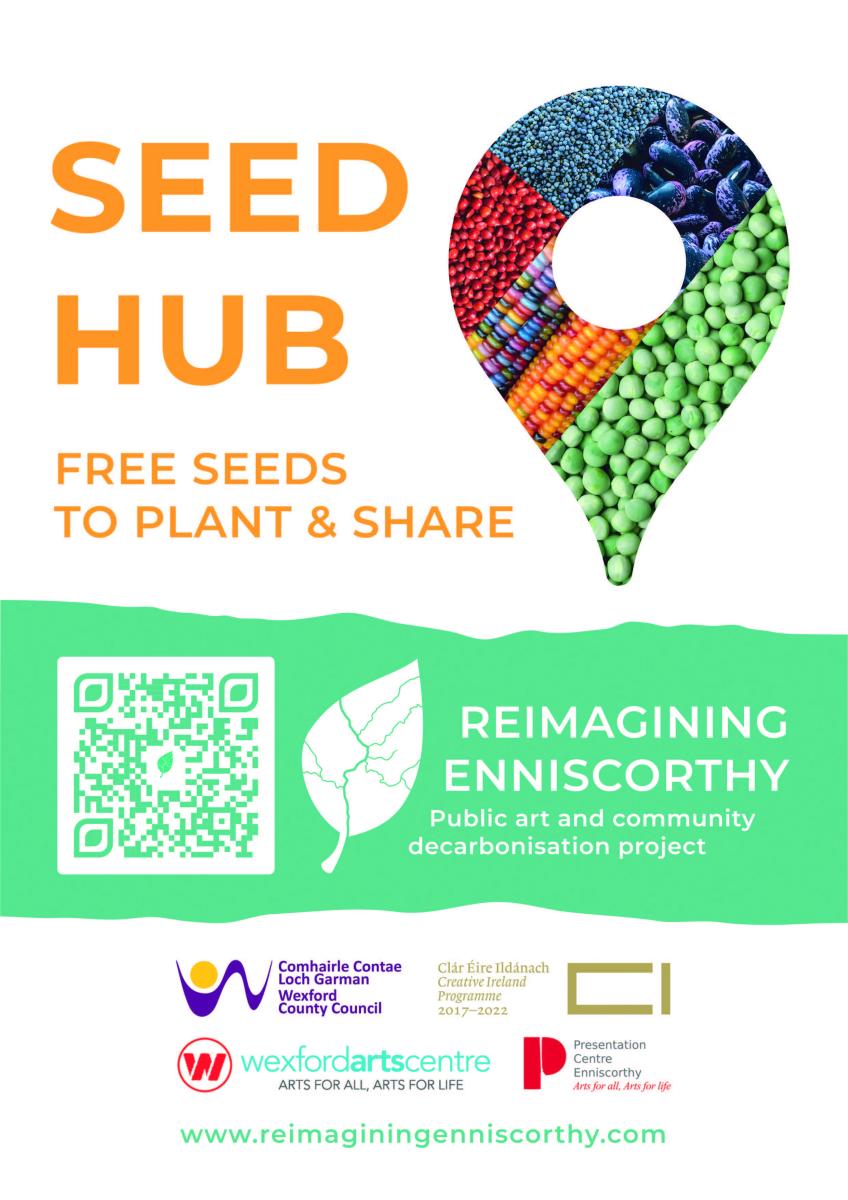 For more information please visit https://www.reimaginingenniscorthy.com/
                  
Reimagining Enniscorthy is supported by Wexford County Council's  Arts Office, Climate Action Team, Culture Team and Sustainable Enniscorthy.