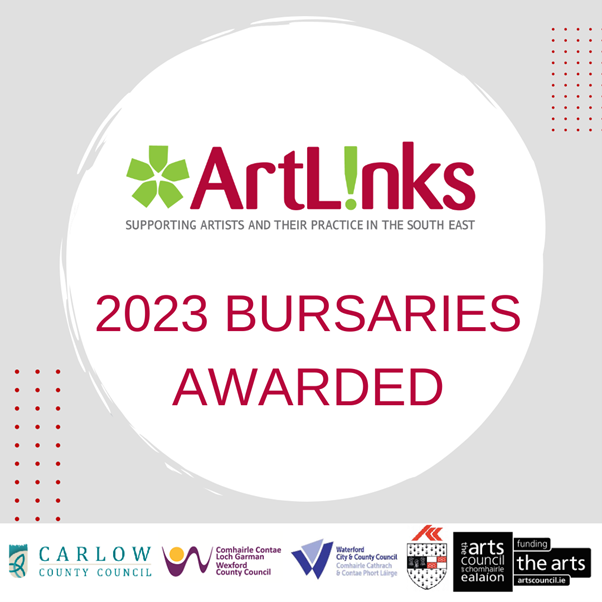 ArtLinks is a partnership of the four local authority Arts Offices in Wexford, Carlow, Kilkenny and Waterford.  It is supported by the Arts Council/An Chomhairle Ealaíon.  These bursaries for emerging and professional artists is supported by The Arts Council/An Chomhairle Ealaíon.  The provide professional development opportunities and supports for artists who are artists who are resident in these four counties.
        
       
The recipients of the €30,000 bursaries from the Arts Office, Wexford County Council are:  
Olivia O'Dwyer - Visual Arts;
Alanna O'Kelly - Visual Arts;
Brendan Fahy – Literature;
Emma Roche - Visual Arts;
Hannah Scully – Dance, Film;
Orla Bates - Visual Arts;
Joe Brennan – Storytelling, Participatory Arts;
Denise Kehoe - Visual Art;
Laura Flood - Visual Arts;
Stephen James Smith – Multidisciplinary;
Ciara Grey – Circus;
Michelle Dooley Mahon – Literature.
Liz Burns, Arts Officer, Wexford County Council, thanked all the ArtLinks members who made applications and said that she was pleased that the local authority could support so many artists in the development of their arts practices and careers.  the competition in Wexford was very high in 2023 with 46 applicants in total. Out of an increased fund of €30,000 the assessment panel awarded 12 Bursaries in total to Wexford based artists across art forms of Visual arts, Literature, Music, Drama, Film and Street Arts.  
         
For all ArtLinks enquiries please contact artlinks.ie@gmail.com    
            
Follow @Artlinks.ie on Facebook and Instagram for more information and updates.