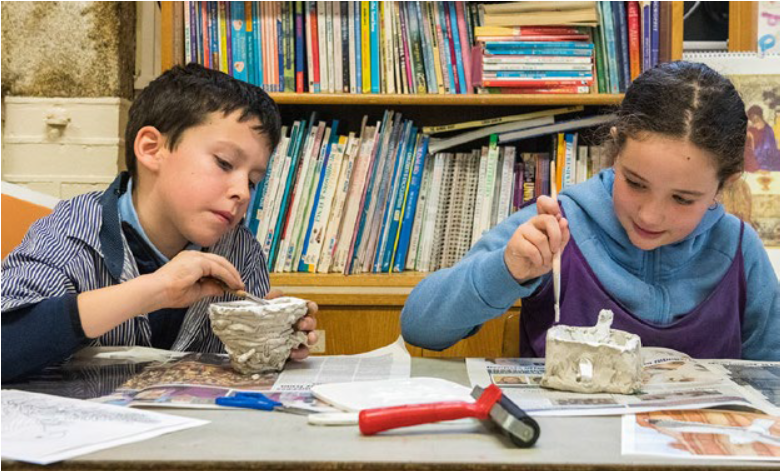 The Living Arts Programme running since 2013 is an arts-in-education programme created by Wexford County Council in partnership with Wexford Arts Centre.  The aim of the Living Arts Project is to provide children with an understanding and appreciation of contemporary visual art. Selected primary schools have the opportunity to host an artist in residence for fifteen weeks during the school year.
Four Wexford-based artists are partnered with schools to create a body of work over the academic year. The residencies prioritise the development of the artists' practice within the project and encourage engaging work from the pupils. The project offers teachers an opportunity to observe and learn creative processes for use in the classroom.
In addition, we have an assistant artist programme which sees assistant artists paired up with a lead artist in each residency creating more opportunities for shared knowledge in relation to creating and mediating contemporary visual art.  Another element of this programme is a mentorship section which allows each artist to select an independent artist/curator they felt was relevant to their professional practice.  This mentorship helped ensure the effectiveness and integrity of the programme on an ongoing basis, while also providing a positive critique for all the resident artists. 
All residencies culminate in an exhibition from participating schools at Wexford Arts Centre in April/May of the following year. Pupils participating in the project have the benefit of detailed guidance from the artist over the period of the residency and the opportunity to see their work exhibited in a gallery.
 
The deadline for this programme in 2021 has now closed.  
Details on the 2022 programme will be advertised earlier in 2022. 
 
For any queries please contact Visual Art Manager Catherine Bowe in Wexford Arts Centre on catherine@wexfordartscentre.ie .