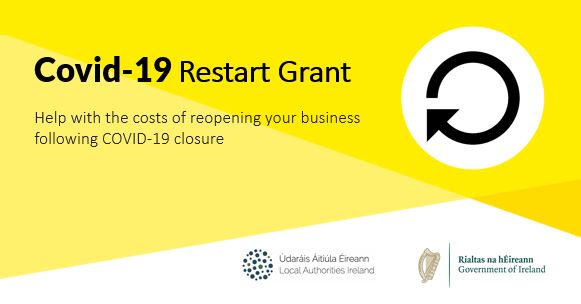 To assist with your application for the grant you will need some details in relation to your business and it might be useful to have these details ready to facilitate completion of the application.  These details would include the following and it may also be useful to refer to the Frequently Asked Questions prior to submitting your application : 
A copy of the Rate Demand for relevant customer and property reference numbers
Revenue Registration Number
Eircode
Bank Account Name (Irish bank accounts only)
BIC
IBAN
Bank Statement Header
Tax Clearance Access Number
Turnover in 2019
Employee Nos – including those on TWSS and PUP
To submit your application please complete the Restart Business Grant Online Form .
Please note a separate application will be required for each rated property on your rate account.  
 
Any queries should be sent to restartgrant@wexfordcoco.ie .
Should you require an Irish language version of the form please contact us .
---
The Government's new €250m Restart Grant will give direct grant aid to micro and small businesses to help them with the costs associated with reopening and reemploying workers following COVID-19 closures.
The Grant will be available to businesses with a turnover of less than €5m and employing 50 people or less, which were closed or impacted by at least a 25% reduction in turnover out to 30th June 2020. It is a contribution towards the cost of re-opening or keeping a business operational and re-connecting with employees and customers.
The grants will be equivalent to the rates bill of the business in 2019, with a minimum payment of €2,000 and a maximum payment of €10,000.