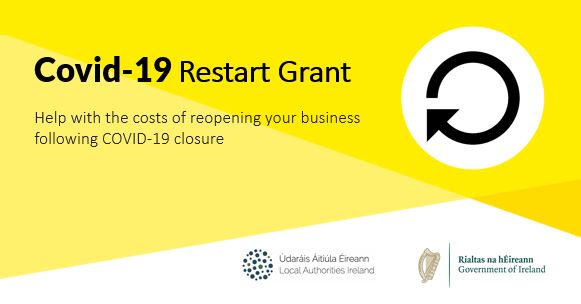 Applications for the Restart Grant Plus are now open
To assist with your application for the grant you will need some details in relation to your business and it will be useful to have these details ready to facilitate completion of the application.
These details would include the following and it would be useful to refer to the Frequently Asked Questions prior to submitting your application.
40% Top Up
The 40% Top Up on the Restart Grant Plus will automatically be applied to applications from pubs, bars and nightclubs i.e. those not allowed to open due to Government Guidelines. A separate application is NOT required.
If you have already received your Restart Grant Plus approval notification / grant monies into your account prior to the Government announcement of this 40% Top Up, there is no need to do anything, the 40% Top Up payment will be processed, you will get a notification email prior to the funds being credited to your account.
 
New Applications
A copy of the Rate Demand for relevant customer and property reference numbers
Revenue Registration Number
Eircode
Bank Account Name (Irish bank accounts only)
BIC
IBAN
Bank Statement Header
Tax Clearance Access Number
Turnover in 2019
Employee Nos – including those on TWSS and PUP
Self-declaration Form (If approved for Restart Grant 1)
 
Original Restart Grant Application reference e.g.Restart-Grant-123456789 - You will find this on your grant approval e-mail and on your payment notification e-mail
Tax Clearance Access Number if your accumulated grant amount will be greater than €10,000
To submit your application or self-declaration please complete the Restart Grant Plus Online Form. Please note a separate application will be required for each rated property on your rate account.
Any queries should be sent to restartgrant@wexfordcoco.ie
Should you require an Irish language version of the form please contact us.
 
Restart Grant Plus - Explanatory Chart
What will my business be eligible for?
The Restart Grant Plus is a NEW standalone grant that is available to all eligible businesses, including those who received a grant in the 1st Restart Grant Scheme.
1. Applicants who received a grant under the 1st Restart Scheme can apply again for a 2nd grant by submitting a Declaration Form.
| | | |
| --- | --- | --- |
| Sample 2019 Rates Bill | Grant under Original Restart Scheme | Additional Grant payable under new Revised Restart Grant Plus Scheme |
| Rates bill less than €2k in 2019 | €2k min | A further €4k (new minimum) |
| €3k rates bill | €3k | A further €4k (new minimum) |
| €5k rates bill | €5k | A further €5k |
| €8k rates bill | €8k | A further €8k |
| €10k rates bill or greater | €10k max | A further payment equivalent to 2019 rates bill to a maximum of €15k (i.e. overall combined maximum total €25K) |
2. First-time Applicants who are now eligible under the Restart Grant Plus Scheme must submit the Application Form.
| | |
| --- | --- |
| Business Type | Grant payable |
| Small & Medium sized Companies/independent hotels. | 2019 rates assessment subject to minimum grant of 4k and a maximum of 25k. |
| Sports clubs commercial activities (in rateable premises) | 2019 rates assessment subject to minimum grant of 4k and a maximum of 25k. |
| Trading Charity shops (in rateable premises) | 2019 rates assessment subject to minimum grant of 4k and a maximum of 25k. |
| Non-rate paying B&Bs | €4k only ( NB Applications to be made to Fáilte Ireland www.failteireland.ie ) |