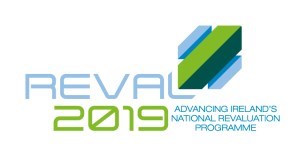 John O'Sullivan, Commissioner of Valuation, signed the Valuation Order for the rating authority area of Wexford County Council on Friday 6th October 2017, which signaled the formal commencement of the revaluation of all commercial and industrial property in the County.
The revaluation is not intended to increase the overall rates revenue raised by Wexford County Council; the purpose of revaluation is to bring increased transparency and more equity to the local authority rating system.  Following revaluation, there will be a much closer and uniform relationship between the current annual rental values of commercial properties and their commercial rates liability.  The table below shows the outcomes in other Counties which have gone through the revaluation process.

The Valuation Office is currently undertaking the revaluation of all commercial and industrial property in the County.  Ratepayers should ensure they read carefully any and all communications from the Valuation Office, respond to any/all requests for information and attend any information events organised by the Valuation Office to ensure they fully understand the changes associated with this major revaluation programme.
The Valuation Office has indicated that details of proposed valuations for commercial properties will be issued to ratepayers in Quarter 1 2019.  The Proposed Valuation is not your Rates Liability.  Your rates liability for 2020 and subsequent years will be calculated by multiplying the Valuation on the property by the Annual Rate on Valuation (ARV) set by Wexford County Council.  An indicative ARV for 2020 will be published by Wexford County Council prior to the issuing of the proposed valuations.
Ratepayers will have the opportunity to make representations if they are unhappy with anything contained in the proposed valuation certificate.  It is intended to hold walk-in clinics throughout County Wexford following the publication of the proposed valuations where staff from the Valuation Office will be available to answer queries.
The new Valuation List for Wexford will be published by the Valuation Office in September 2019 and become effective for rates purposes from 2020 onwards.  If a ratepayer is dissatisfied with their final valuation there is a right of appeal to the independent Valuation Tribunal.

Further Information:   Phone: (01) 8171033 or Lo-Call (1890) 531 431 
The helpline is in operation from 9.30am to 5.30pm Monday to Friday, excluding public holidays.
Email: reval2019@valoff.ie