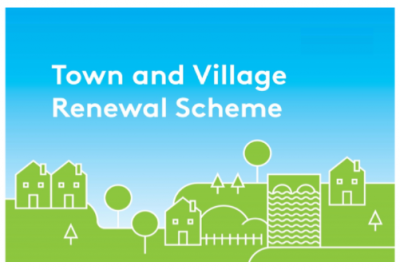 February 02, 2021:  Preliminary Call for Expressions of Interest
Wexford County Council is seeking ideas in respect of projects which physically improve and/or increase the economic potential of towns and villages, in anticipation of the launch of the Town and Village Renewal Scheme 2021.  We are asking community groups across the county to bring forward details of any project which the Council could consider for submission to the Department of Rural and Community Development.
While the 2021 scheme and its criteria has yet to be announced, Wexford County Council at this stage, is trying to ascertain the potential level of interest and the  nature of any proposed projects that may be eligible for the scheme.  
For guidance, we recommend that the qualifying conditions and terms of the 2020 scheme should be taken into consideration when developing your proposal(s) (See information below). 
About the Scheme
The Town and Village Renewal Scheme is an initiative under the Action Plan for Rural Development and is part of a package of national and local support measures to rejuvenate rural towns and villages throughout Ireland through the Government's Project Ireland 2040 Rural Regeneration Programme.  The Scheme is funded by the Department of Rural and Community Development and administered by the Local Authorities.
Local Authorities are required to advertise for expressions of interest from towns/villages in their area and can select proposals for development into detailed applications to be submitted to the Department.  
2020 Scheme Outline
The 2020 Town and Village Renewal Scheme operated on the same basis as delivered in recent years, albeit with a particular focus on projects which could deliver an economic dividend and enable towns and villages to respond to COVID-19 challenges. Selection of projects was by means of a competitive process, with the final project selection made by the Department of Rural and Community Development.
Categories of Towns/Villages
Two categories of Towns/Villages were eligible for support under the scheme:
Category 1:  Towns/villages with a population of less than 5,000 people
Category 2:  Towns with a population of 5,000-10,000 people
At least 60% of the funding available was awarded to Category 1 towns and villages.
With successful proposals that demonstrated close collaboration between communities and business interests in the design and delivery of proposed projects, and had the support of the Local Authority.
Sustainable impacts
2020 scheme placed particular emphasis on projects that supported the economic and social recovery of towns and villages in response to COVID-19. With projects to have a clear positive impacts on a town or village in terms of place-making and town centre regeneration, or which could stimulate economic activity between a town/village and its neighbouring townlands, as well as proposals which sought to develop initiatives to encourage town centre living.
Projects which demonstrated leveraging of, or linkages with, other schemes operated by Government Departments or agencies (e.g. in the areas of heritage, arts, culture, tourism, re-use of vacant premises, vacant sites, energy efficiency schemes, etc) were also encouraged.
Grant levels
As a once off measure maximum grant level for any individual project was increased to 90% of the total cost of a project.  The minimum grant available was €20,000 and the maximum €100,000.  A higher maximum of €200,000 was considered for a limited number of projects where a strong case could be made which demonstrated exceptionally strong benefit to a town and/or its outlying areas. 
Preliminary Expressions of Interest Return Information
Please note that a Preliminary Expression of Interest (EOI) form must be submitted on or before 5:00 pm on Friday 26th February 2021 (details on the form).
Wexford County Council will assess the general level of interest and will meet representatives of community groups in the coming weeks, if required, to develop ideas further or look at how applications may be strengthened.
•    A Framework for Town Centre Renewal 
•    2020 Town and Village Renewal Scheme Outline 
•    2021 Town and Village Renewal Scheme Preliminary Expression of Interest Online Form 
•    2021 Town and Village Renewal Scheme Preliminary Expression of Interest Downloadable Form