Wexford County Council Decade of Centenaries Plan 
Wexford County Council Public Library and Archives Service offer a vibrant and exciting Decade of Centenaries Programme which has been approved by the Department of Culture, Heritage and the Gaeltacht. 
This plan has been designed and adapted to fully comply with necessary Public Health restrictions imposed on the community due to the Coronavirus Pandemic. The project plan has been adapted to enable online delivery and to increase public access to the digital collection for the revolutionary period of the War of Independence and the Civil War in County Wexford.
There are a number of strands to Wexford County Council's Decade of Centenaries plans.
Digitisation of Archive Material 
In addition to continuing to digitise our local newspapers for the period, we have also identified a number of items, recently acquired/deposited items which will enhance the range of revolutionary period material in our archive. These include the Enniscorthy UDC minutes for the 1919-23, and a number of historical documents – relating to the War of Independence and Civil War in Co. Wexford. These will benefit the local community by being made more widely available through the local branch network and on The County Wexford Archives website. 
Historical Strand
-    An on-line exhibition of material from the 1920 Local Elections in County Wexford will be hosted on the County Wexford Archives website.
-    On-line exhibition for in branch Digital display units and TV screens concentrating on War of Independence anniversaries in 2020, hosted on Wexford Public Libraries YouTube Channel with links available through social media.
War of Independence Lecture Series/Short films
Our lecture program of talks, short films or webinars by prominent historians of the revolutionary period includes:
-    'The Road to Independence' - War of Independence in Wexford film by Barry Lacey and Michael Fortune
-    Exploring the Role of Cumann na mBan in Co. Wexford and the effects of conflict on women and children in the County with author and historian Liz Gillis. 
-    The Burning of Wexford's 'Big Houses', 1919-1923 – with Wexford based historian Dan Walsh.
-    The intriguing tale of Capt. Percival Lea Wilson of Gorey – A Marked Man! A short film from local historian Des Kiely.
-   Short video, of various War of Independence sites of activity around County Wexford including old images and interviews with local community with Barry Lacey, archeologist and social historian.  
-    A four part series on the War of Independence in Co. Wexford presented by Jarlath Glynn, originally broadcast March 2020 on South East Radio.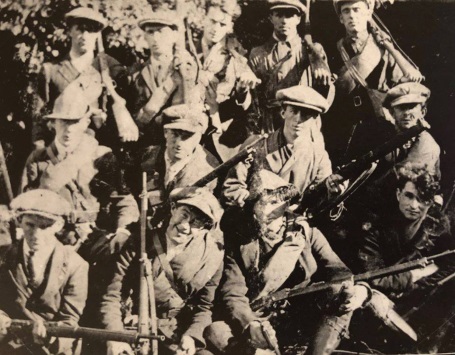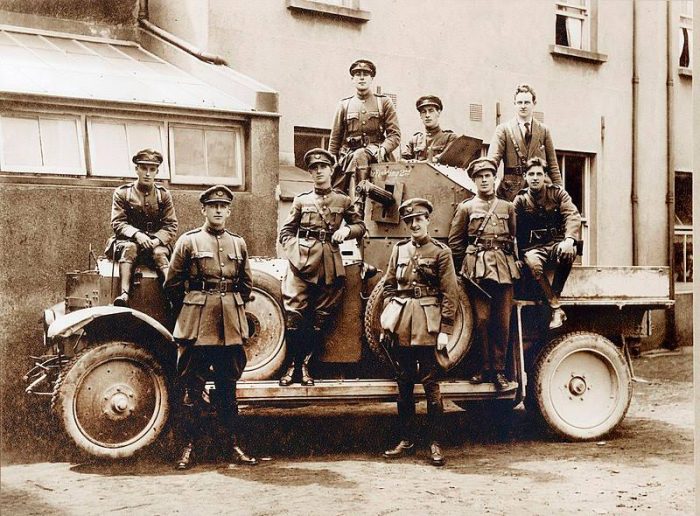 National Army troops in Wexford during the Civil War.
Wexford County Council is delighted to announce that it has commissioned History Ireland Hedge School to produce a podcast which discusses historical events in Wexford from 1916 to 1923.
The podcast is available on the Wexford Public Libraries YouTube Channel 
Wexford during 1916-1923
While not in the vanguard of armed activity during the War of Independence, Wexford has the distinction of being one of the few counties outside Dublin that saw action during the 1916 Rising. However, it was also one of the few places where John Redmond's (a native of the county) Irish Parliamentary Party maintained a substantial level of support throughout the revolutionary period. To interrogate these apparent contradictions, you can listen to History Ireland editor, Tommy Graham, in discussion with Bernard Browne, Ida Milne, William Murphy and Kevin Whelan.
 
The panellists are eminent historians and have all published books in relation to this period in history. Bernard, Ida and Kevin also originally hail from County Wexford.
 
Cathaoirleach of Wexford County Council, Ger Carthy says, "As Chairman of Wexford County Council, I am delighted to announce the launch of this important new podcast that explores events during the Decade of Commemorations in County Wexford. Some of Wexford's most eminent historians will be discussing events in the County and I would encourage people to engage with the podcast in the days and weeks ahead." 
Panellists
Bernard Browne is the author of County Wexford and The 1916 Rising: The Literary Legacy (Pike Press, 2015).
Ida Milne is the author of Stacking the Coffins: Influenza, War and Revolution in Ireland, 1918-1919 (Manchester University Press, 2018).
William Murphy is Associate Professor in the School of History and Geography in DCU's St Patrick's Campus, Drumcondra.
Kevin Whelan is Director of the Notre Dame Dublin Global Gateway.
About History Ireland Hedge Schools
History Ireland Hedge Schools, developed and facilitated by the History Ireland editor, Tommy Graham, have been running since 2010 and are lively debates presented on a wide range of international, national and local topics. History Ireland Hedge Schools provide a novel and interesting way to bring historical topics to life.
This podcast is available at https://podcasts.apple.com/us/podcast/history-ireland/id1503109266 and https://www.historyireland.com/hedge-schools/ or wherever you get your podcasts.
This podcast is supported by Wexford County Council Public Library Service and the Department of Tourism, Culture, Arts, Gaeltacht, Sport and Media under the Decade of Centenaries 2012-2023 initiative.