On 27th April 2021, Minister Martin, on behalf of the Department of Tourism, Culture, Arts, Gaeltacht, Sport and Media announced the Decade of Centenaries Programme for 2021: 
Read Decade of Centenaries 2012-2021 - Programme for 2021
County Wexford's plans are featured on page 37 of the national programme.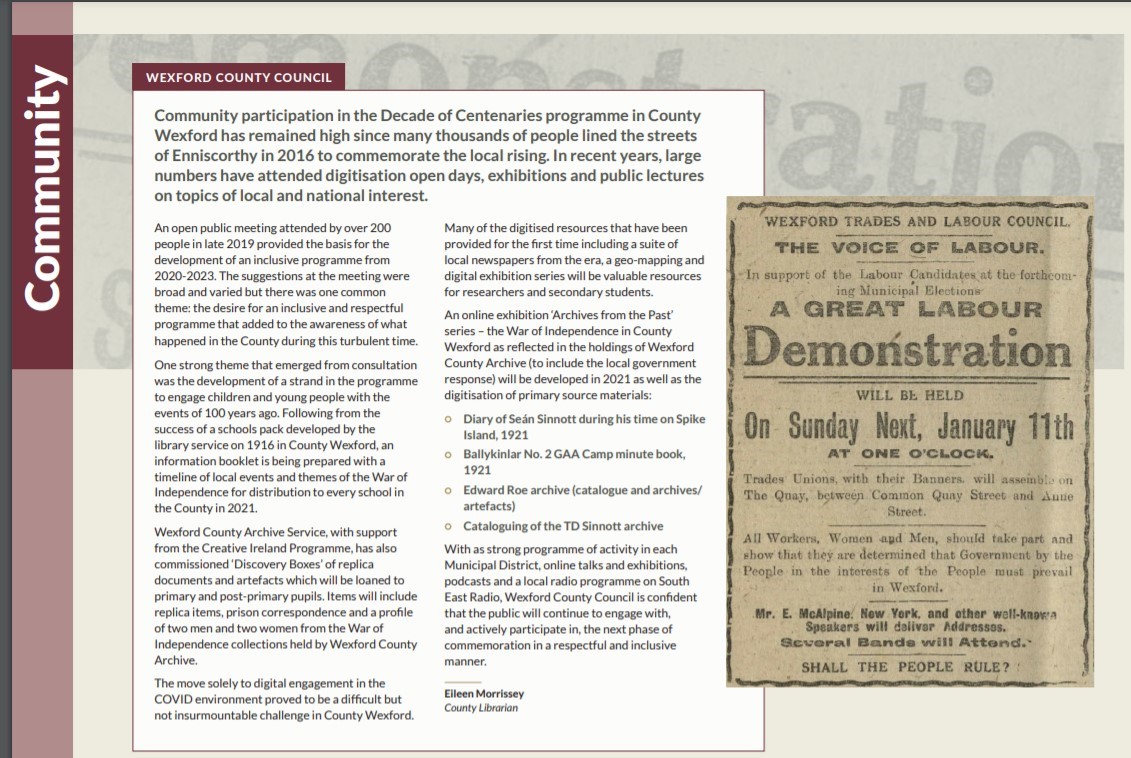 Wexford County Council Decade of Centenaries Plan 2021
Wexford County Council Public Library and Archives Service offer a vibrant and exciting Decade of Centenaries Programme for 2021 which has been approved by the Department of Tourism, Culture, Arts, Gaeltacht, Sport and Media. This plan has been designed and adapted to fully comply with necessary Public Health restrictions imposed on the community due to the Coronavirus Pandemic. The project plan has been adapted to enable online delivery and to increase public access to the digital collection for the revolutionary period of the War of Independence and the Civil War in County Wexford.
There are a number of strands to Wexford County Council's Decade of Centenaries plans for 2021.
Initiatives that support broad public engagement
Historian in Residence Programme
The aim of the residency will be to make history more accessible to members of the public and to raise awareness of the resources available through Wexford County Archive and Libraries. Examples of work under the scope of the project (but not confined to these) include lectures, workshops, research, liaison with community groups and publications. 
History Ireland Hedge School Podcast
History Ireland Hedge School podcast which discusses historical events in Wexford from 1916 to 1923. You can listen to History Ireland editor, Tommy Graham, in discussion with Bernard Browne, Ida Milne, William Murphy and Kevin Whelan. The panellists are eminent historians and have all published books in relation to this period in history. This podcast is available at https://podcasts.apple.com/us/podcast/history-ireland/id1503109266 and https://www.historyireland.com/hedge-schools/ or wherever you get your podcasts.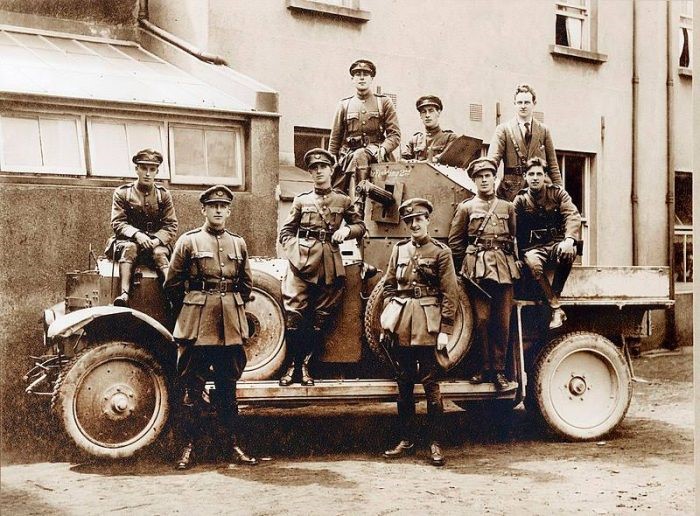 Public Lecture Programme
Wexford Public Libraries are happy to announce that they have two online presentations in relation to the revolutionary period (1912-1923).
Podcast on "Sport and War in County Wexford" by Paul Rouse 
Wexford Libraries have enlisted Paul Rouse, Professor of History, University College Dublin to create a podcast on sport in County Wexford during this time. Paul has written extensively on the history of Irish sport and he writes a weekly column for the Irish Examiner. He is currently Co-Director of two major public history projects: Century Ireland (www.rte.ie/centuryireland), the main online portal for the Irish Decade of Commemorations, 1912-23; GAA Oral History Project (www.gaa.ie/the-gaa/oral-history/), the largest oral history project undertaken by any sporting organisation in the world. 
This podcast is currently available on Wexford Libraries YouTube channel  "Sport and War in County Wexford" by Paul Rouse.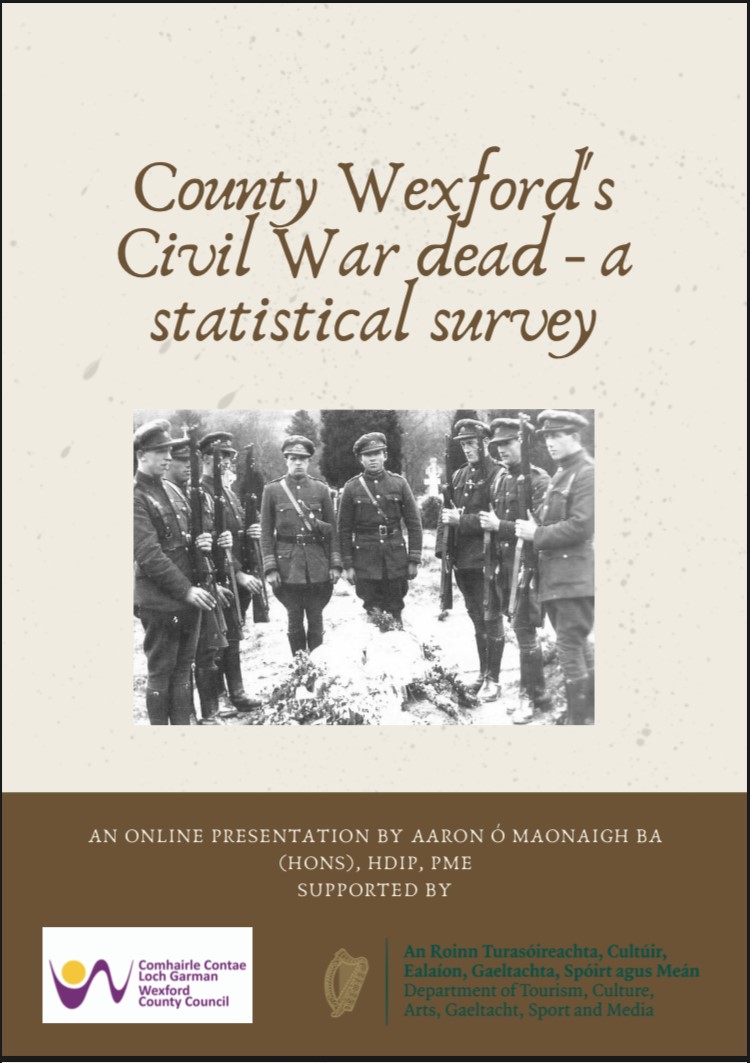 Video on "Wexford's Civil War Dead" by Aaron Ó Maonaigh
Wexford Libraries have commissioned Aaron Ó Maonaigh to do an online video presentation in relation to fatalities in Wexford during the Civil War. Aaron Ó Maonaigh is a native of Dublin with familial ties to Enniscorthy, Co. Wexford. A graduate of Coláiste Phádraig (BA Hons) and Dublin City University (PME), he is currently employed by the Department of Education and Skills and teaches English and History at a post-primary school in Co. Dublin. He has previously published and presented on the subjects of Irish cultural identity and the politics of sport during the Irish Revolution (1912-1923), and the Civil War experience of Co. Wexford. His work has featured in publications by Routledge Press, Dictionary of Irish Biography, The Past: Organ of the Uí Cinsealaigh Society, and Cork University Press [forthcoming].
This video is currently available on Wexford Public Libraries YouTube channel "Wexford's Civil War Dead" by Aaron Ó Maonaigh 
We also intend to hold lectures under the following topics:
•    Ireland - War of Independence 1919-1921 by Ronan McGreevy
•    The Role of Cumann na mBan in Co. Wexford and the effects of conflict on women in the County by Liz McGillis
•    The Railways and County Wexford's Revolutionary period by our Historian-in-residence, Barry Lacey
Social History Project 
This project will record family life in Wexford 1920 -1925, a social history of the time as recorded in personal diaries. A profile of that time will be told through text, voice on podcast and image for exhibition.
Engagement with Children and Young People
Schools Programme
An information booklet will be researched, compiled and edited with a timeline of War of Independence and Civil War in County Wexford. 
Access to primary resources and digitised material to aid research and understanding
Public Digitization Project 
An open day for members of the public to present medals, correspondence, photos and stories of their family members to be digitised or deposited in the Archive. These memorabilia will then be available to view online in digital exhibition format. 
Access to Local newspapers from the period
Completion of the further digitisation of local newspapers from the period making those resources available locally in County Wexford and online.
Cataloguing the TD Sinnott Collection 
This is a notable private collection in Wexford County Archive which will be digitised, and elements of the collection will be made available on the Archives website.
Digitisation of Archival Collections 
1 - Diary of Seán Sinnott during his time in Spike Island, 1921; 
2 - Ballykinlar No. 2 GAA Camp minute book, 1921; 
3 - Edward Roe archive (catalogue and archives/artefacts)
4 - Diary of Goddard Orpen diary dated 1922
Online exhibition series entitled 'Archives from the Past' 
The War of Independence in County Wexford as reflected in the holdings of Wexford County Archive (this will include the local government response). 
The 2021 plan will also include various projects at Municipal District level (tbc) and a creative community-led initiative which will be coordinated by Wexford County Council Arts Department. 
-----------------------------------------------------------------------------------------------------------
Decade of Centenary 2020
Projects completed under the Decade of Centenaries 2020 programme include:
Online Exhibition of 1920 Local Elections
-    An on-line exhibition of material from the 1920 Local Elections in County Wexford is hosted on the County Wexford Archives website.
War of Independence Lecture Series/Short films
Our lecture program of talks, short films or webinars by prominent historians of the revolutionary period includes:
-    'The Road to Independence' - War of Independence in Wexford film by Barry Lacey and Michael Fortune.
-    The Burning of Wexford's 'Big Houses', 1919-1923 with Wexford based historian Dan Walsh.
-    The intriguing tale of Captain Percival Lea Wilson of Gorey – A Marked Man! A short film from local historian Des Kiely.
-   Short video, of various War of Independence sites of activity around County Wexford including old images and interviews with local community with Barry Lacey, archaeologist and social historian.  
-    A four part series on the War of Independence in Co. Wexford presented by Jarlath Glynn, originally broadcast March 2020 on South East Radio.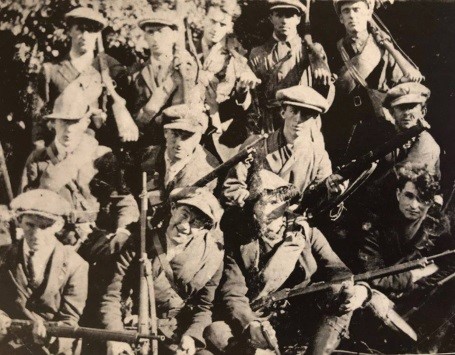 Decade of Centenaries 2020 and 2021
All presentations were funded by the Department of Tourism, Culture, Arts, Gaeltacht, Sport and Media under the Decade of Centenaries 2012-2023 initiative.