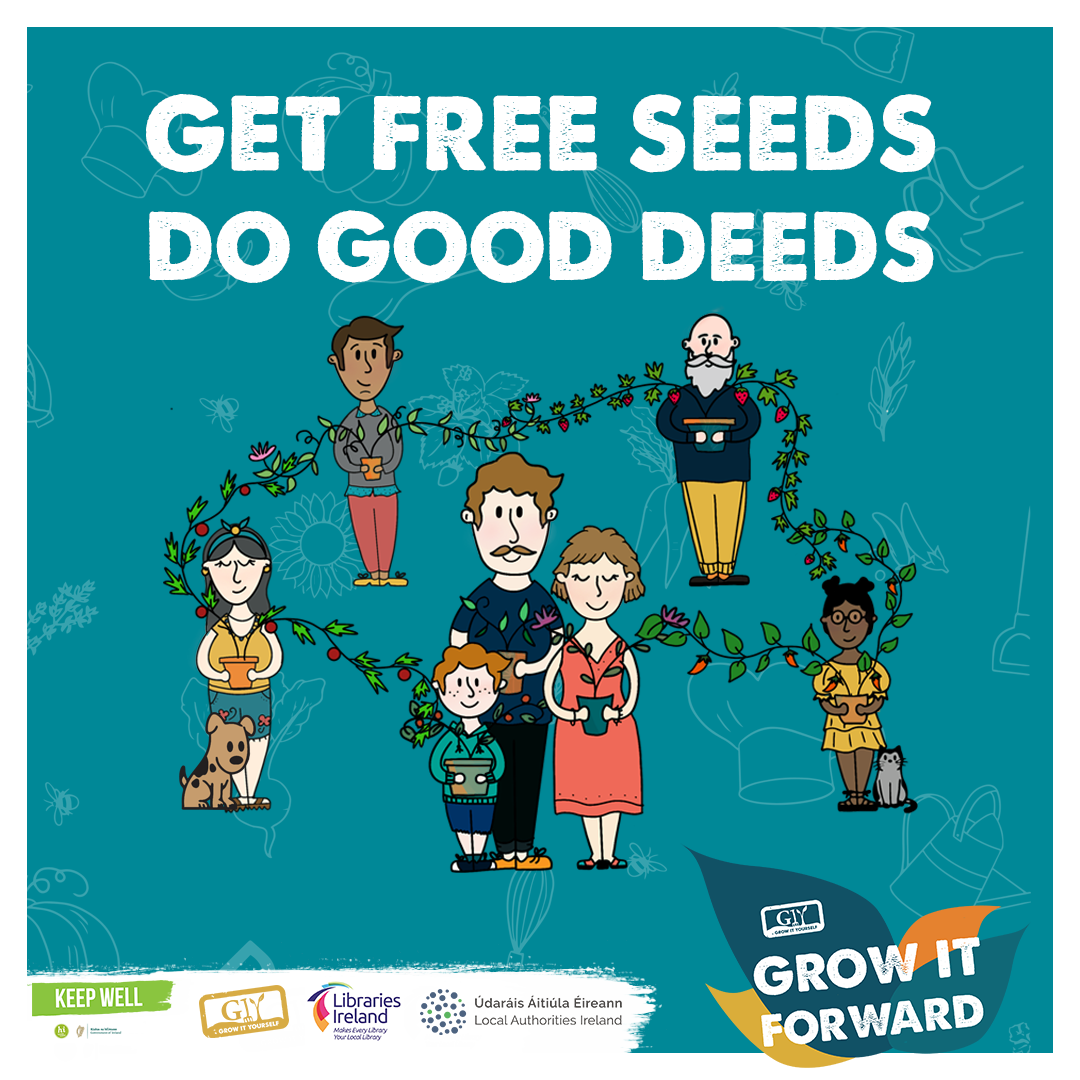 Wexford Libraries are delighted to be involved with the Grow It Forward campaign with Grow It Yourself (GIY).
As part of the Government's Keep Well programme, this campaign is designed to help the nation eat well by inspiring and supporting people to grow some of their own food at home while connecting with friends and family to join them. 
We will join with all public libraries across Ireland in distributing seed packs to members of our local communities, so we're asking the people of Wexford to help us get Wexford growing!
You will receive a seed pack that includes seeds for beetroot, carrots, salad leaves, peas and tomatoes, a guide to help grow them, and a postcard and gift tags to help share them with family and friends.
You can also access growing guides and videos via the Grow It Yourself website www.giy.ie
All you need to do is contact your local library and we will arrange to get the seed packs to you, follow along with our social media channels during spring where you'll find a host of growing related activities to help you along – story times, craft projects and talks.
Don't forget to share your growing progress with us in the libraries, as we'll be sharing our photos and videos with you! 
Contact your nearest library: 
Bunclody library bunclodylib@wexfordcoco.ie or phone 053 937 5466 
Enniscorthy Library. enniscorthylib@wexfordcoco.ie or phone 053 9236055 
Gorey Library goreylib@wexfordcoco.ie or phone 053 948 3820 
New Ross Library newrosslib@wexfordcoco.ie or phone 051 421877 
Wexford Town Library wexfordlib@wexfordcoco.ie or phone 053 919 6760 
Let's get Wexford growing! 
#KeepWell #GrowItForward #WexfordGrows