A new national advertising campaign is asking everyone to take a closer look at what their local authority library has to offer. 
Public libraries are run by local authorities. All local authorities and libraries are getting behind the campaign, which was devised by the Libraries Development Unit of the LGMA with the support of the Department of Rural and Community Development. 
Wexford County Council and Wexford Public Libraries are joining in the campaign, which is running for the next four weeks across radio, cinema, TV on demand, digital and social. 
The aim of the campaign is to encourage people of all ages to join and use the library. 
People who use the library regularly know how great it is. But there are those who haven't been in a while or don't visit very often. 
We want everyone to take a closer look at their library, to see beyond what they thought it was, and find out about all the amazing services we offer – completely free.
Libraries and Librarians take the starring roles in the campaign; the libraries in the adverts are real libraries and the people in the advert are real librarians – see if you can spot any you know. 
At present, around 16% of the Irish population are library members. The 'Our Public Libraries' strategy aims to increase that to 30% by 2022.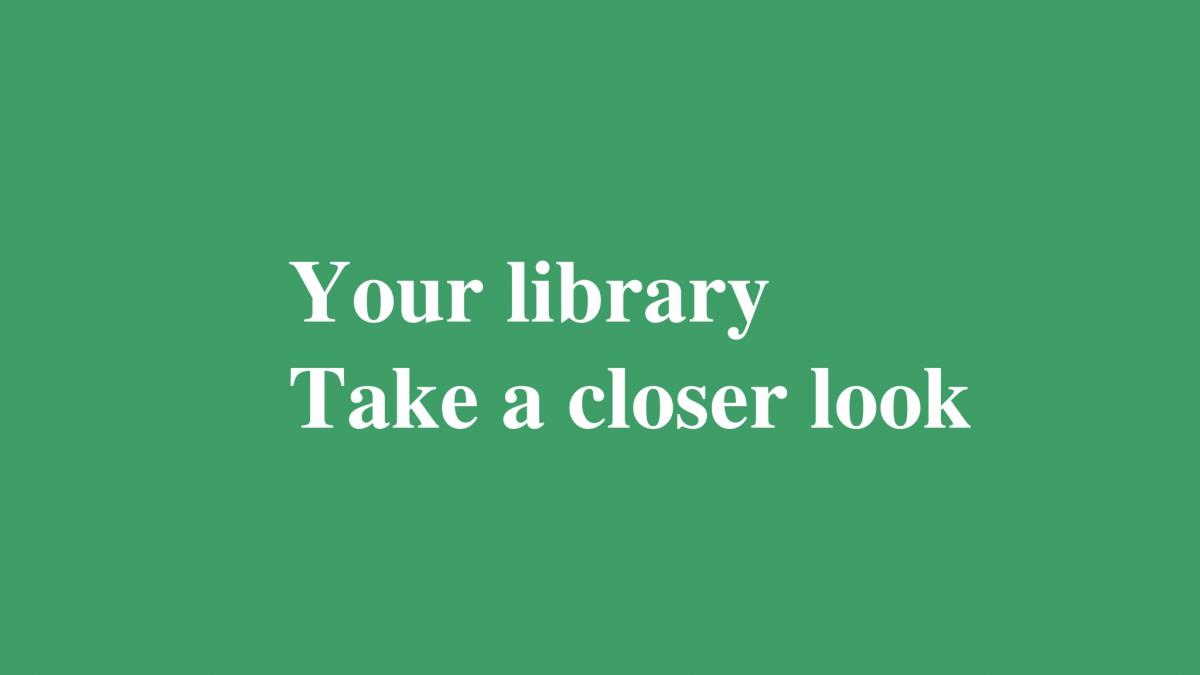 Take a look at the 'Take a Closer Look' advert at https://www.youtube.com/watch?v=-ZOvJVnHhY0
What are some of the surprising things on offer in libraries? 
•    The amount available to borrow
We have 12 million items available in a national catalogue and you can borrow any item whether it's in your library or another one. And that's much more than books - it's also DVDs, music, all sorts! All you have to do is check the national catalogue in the library or online to see if it's available and order it. 
•    Convenience
Once you're a member of one library, you're a member of all libraries. And if you are borrowing an item, you can choose which library to collect it from – and drop it back to any library. 
•    eLibrary
We do want people to come to the library – but often people are quite surprised that they don't actually have to go to the library to get a book out. Once you're a member of the library, you can get eBooks, audiobooks and eMagazines straight to your phone or tablet – whatever you normally use. The books and magazines are bang up to date, with the latest titles. 
•    Community hub
The library is about far more than books. It's a community hub. We have hundreds of events throughout the year, there are always lots of classes going on, meet-up groups, book clubs, exhibitions. You name it – it happens in a library. 
•    Kids' services 
There is so much for kids at the library. We still have the traditional things you might think of like storytime, but we've also got so much more – coding classes, Lego building workshops, arts and crafts. Of course we have lots of books for children, but also much more modern items too – they can experience everything from 3D printing to virtual reality. 
•    Free space
There are very few places anymore that you can just be in – without paying for something. But that's what libraries offer. Everyone is welcome to come in - read, relax, meet friends, use the computer, study, work, whatever you want. 
How many people use the library service? 
This campaign is part of a wider national strategy to increase library use in Ireland – other recent actions from that strategy you may have heard of include the removal of fines and the roll-out of new 'Open Libraries'. 
At present around 750,000 people are members of the library. 
That's about 16% of the population and our strategy aims to get 30% of the population joined up and actively using the library by 2022. 
This campaign will hopefully help with that. 
Why should people join the library?
•    It's free to join
•    You can borrow a book from any library in the country
•    12 million items to choose from, to be borrowed free of charge
•    eBooks, audiobooks and eMagazines straight to your phone or tablet – or whatever you normally use
•    Space to study, free Wi-Fi
•    Hundreds of events throughout the year - classes, meet-ups, book clubs, exhibitions
•    Stuff for the kids – Storytime, coding classes, Lego building workshops, arts and crafts
On February 29th  2020 – Leap Day – we will invite everyone to take some time on that day to 'leap into their library' and get a real sense of what it's like and all that is on offer to them on a typical day there. 
Some stats and facts 
•    There are 330 public libraries in Ireland
•    There are more than 17 million library visits per year
•    About 14 million items are issued to borrowers each year
You name it – it happens in a library!