National Biodiversity Week takes place from the 13th to the 22nd May 2022
National Biodiversity Week takes place from 13th to 22nd May with a busy programme of events across Co. Wexford. National Biodiversity Week is all about connecting people with nature. Wexford County Council is pleased to promote a varied programme of activities from barn owls to pollinator friendly planting to the biodiversity in our underwater coastal landscape. All events are free to attend.
Events are taking place as follows:
Barn Owls in the South-East Monday 16th May 7.30-8.30pm
A free webinar will which focus on one of our most iconic birds, the barn owl, with an update on the Wexford barn owl project and exciting plans for Carlow. This talk is presented by John Lusby of Birdwatch Ireland and Mark Stanley of the Wexford Barn Owl Project.
The Online event on Teams can be found at this link: https://bit.ly/BarnOwls-South-east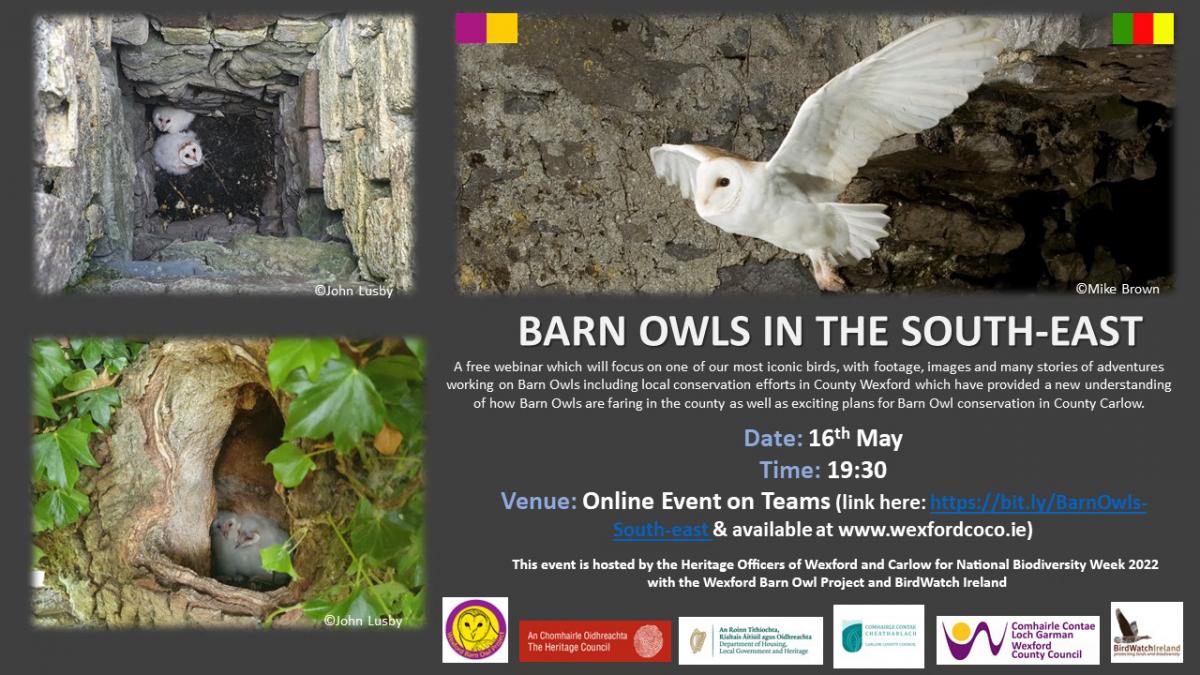 Underwater Biodiversity of the Wexford Coast Thursday 19th May @ 7.30pm Barntown Community Centre
Wexford Sub-Aqua Club diver and photographer Ivan Donoghue will take you on a visual journey around the underwater dive sites of Co. Wexford showcasing the amazing aquatic life around the Wexford coast.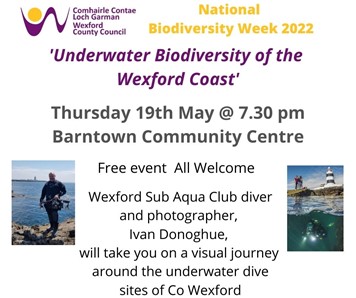 Pollinator talk
An online talk on the benefits of positive pollinator actions for biodiversity is available to view at the following link: https://wexford.canto.global/b/G97TH. The talk is presented by Kate Chandler, Communities and Engagement Project Officer with the National Biodiversity Data Centre. This talk will give you the top 10 tips that Tidy Towns, communities and individuals can do to help pollinators. 
                   
The following links will be of assistance to any groups or individuals working to increase biodiversity in their local areas:  
           
Other nationwide and Wexford events can be found listed in the National Biodiversity Website at https://biodiversityweek.ie/ . 
                  
Biodiversity Week is co-ordinated by the Irish Environmental Network, supported by the National Parks and Wildlife Service and the Heritage Council