Tuesday, 27th September 2022
Wexford County Council is delighted to launch our new online Payment Portal. This Portal can be used to view account information and provides an additional payment option to pay Housing Rents, Commercial Rates, Mortgages, Fire Charges, Marina Fees & Planning Development Levies through flexible payment plans and tailored solutions this Payment Portal will assist account holders to clear account balances.
     
 
Account holders both expect and need safe and secure access to their account information at a time convenient to them. The Payment Portal can be accessed from anywhere via a connected device. 
          
 
The benefits to the account holder are:
• 24 / 7 on-line access from a mobile device, computer or tablet to account information allowing the account holder to do business at a time that suits them.
• View account balance and transaction history online. 
• Ability to make a payment immediately or set up a weekly / fortnightly / monthly recurring card payment plan.
• Access to information / upload documents.
• Request a call back at a time that suits them.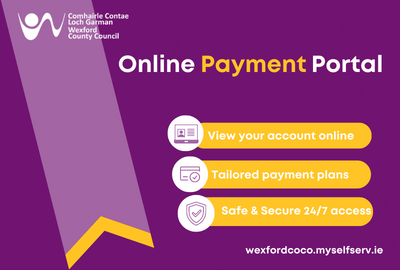 The software for this Payment Portal is provided by Expert Revenue Systems Ltd (XRS). XRS are a 100% Irish owned company, based in Dublin. 
             
 
Annette O'Neill, Director of Services, Wexford County Council said "We are delighted to introduce this new payment portal as we are strongly committed to delivering efficient, quality services to meet the needs of our citizens. By giving our citizens expanded payment options, we strive to make it easier and more convenient for account holders to keep their accounts up to date.'