PressReader is a website and app that connects you with the world's best newspapers and magazines. You have access to 7000+ publications from 120+ countries in 60+ languages. You also have access to back issues and can have new issues of your favourite publications delivered automatically to your device.
What do I need?
All you need is your library card number. 
Get Started
Go to www.pressreader.com or Get the App here
You can download the app from Google Play, the App Store, Microsoft Store, Amazon Fire OS or Blackberry OS.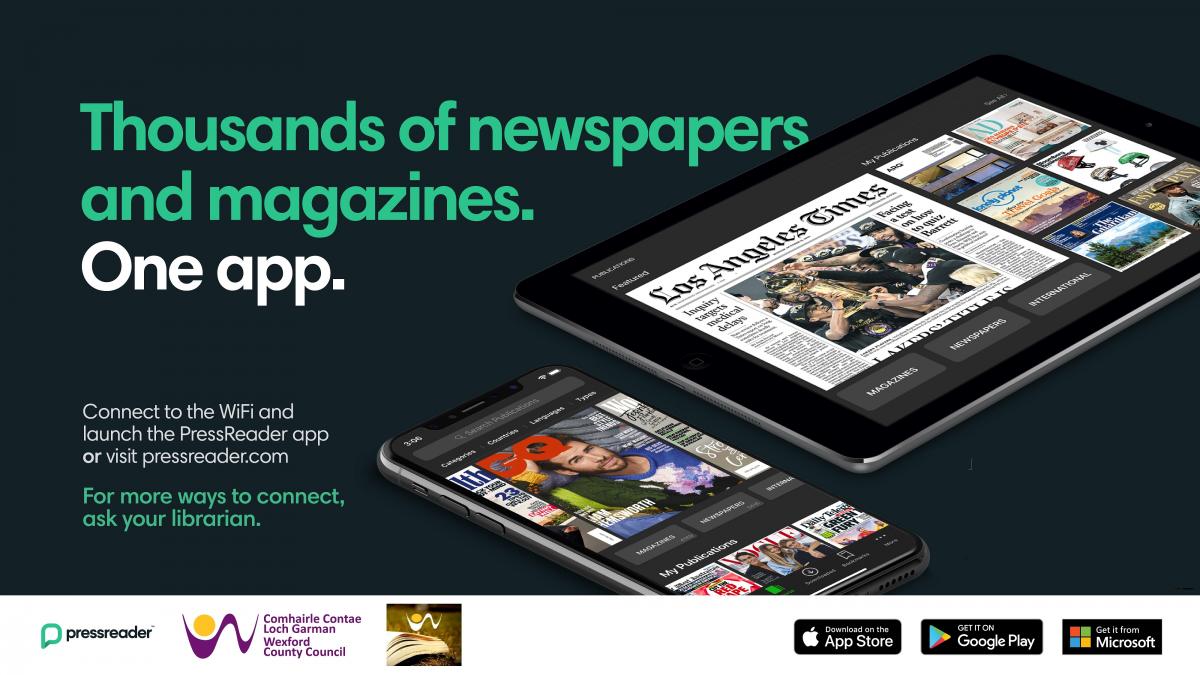 Sign in using 'Library and Group', search for Wexford Libraries then enter your library card number. You now have complimentary access for 30 days. Reactivate as many times as you wish! 
How to access PressReader using your library card
View the PressReader Webpage Guide
View the PressReader App Guide.
Read the PressReader Privacy Policy
PressReader features include - share content to social networks, comment, save publications to read later, listen to their content out loud, and instantly translate up to 19 different languages.
If you need technical support, please contact the PressReader support team at care@pressreader.com
PressReader Update* from 14th April 2021
Unfortunately, PressReader will no longer be able to offer access to any publications owned by Independent News and Media (INM).
Titles that are no longer available include:
Gorey Guardian
Enniscorthy Guardian
Wexford People
New Ross Standard
Irish Independent
Irish Independent - Online Edition
Sunday Independent (Ireland) - online edition
Sunday Independent (Ireland)
Irish Independent Farming
Irish Independent Sport
Sunday Independent Living
Sunday Independent - Life
Sunday Independent Business & Appointments
Irish Independent Business Week
Irish Independent Weekend Magazine
Irish Independent Weekend Review
Irish Independent - Dublin Zoo Supplement
Belfast Telegraph
Belfast Telegraph - Weekend
Belfast Telegraph - Business Telegraph
Belfast Telegraph – Property news
Belfast Telegraph - NI Job finder
Belfast Telegraph - Schools Cup
Belfast Telegraph - Top 100 Northern Ireland Companies
The Corkman
The Kerryman
The Kerryman (South Kerry Edition)
The Kerryman (Tralee Edition)
The Argus
Drogheda Independent
Mid Louth Independent
Fingal Independent
Bray People
Wicklow People
Wicklow People (Arklow)
Wicklow People (West Edition)
The Sligo Champion
As a library member, you get access to more than 7,000 of the world's top newspapers and magazines as soon as they're available on shelves. Downloaded titles are yours to keep – forever.