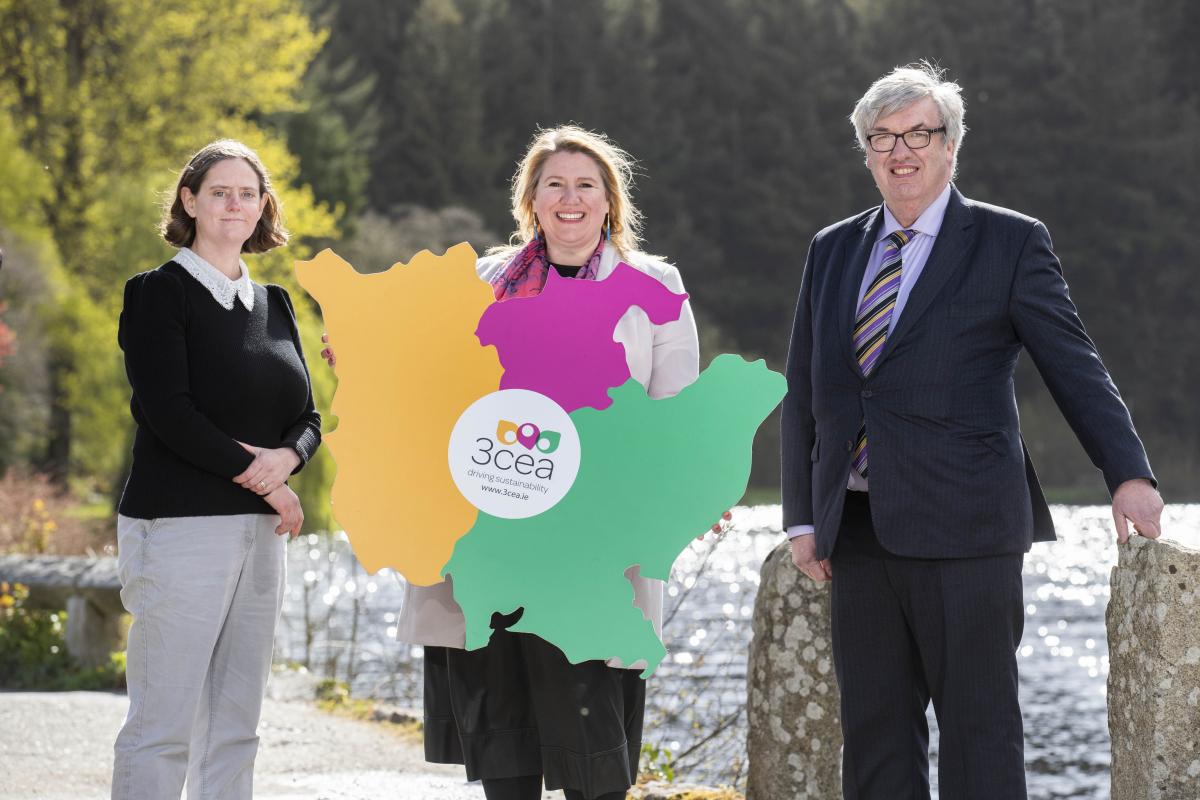 THE SOUTHEAST SURPASSES ENERGY REDUCTION TARGETS AND SAVES €20M
TWO DECADES OF 3 Counties Energy Agency and Wexford County Council SUCCESS
Press release Tailored locally (Carlow / Kilkenny /Wexford)
The County Councils of Carlow, Kilkenny and Wexford working closely with 3 Counties Energy Agency (3CEA), have not only met but all exceeded the 33% energy reduction target set in the National Energy Efficiency Action Plan. 
The not-for-profit energy agency, set up in 2002's a partnership with the County Councils, SMEs, Communities and citizens making their Energy Transition journey smoother.
"It is really making a difference. 3CEA technical support ensures that project opportunities are identified and acted upon promptly where practical. The 3 Couties Energy Agency worked with the Councils' Energy Teams to deliver projects that will deliver ongoing long term sustained energy reduction in each case resulting in a cumulative  saving of €19.97M. All three Local Authorities are participating in a number of EU energy saving projects with the assistance of 3CEA," Saids Paddy Phelan, CEO of 3CEA.
Energy efficiency remains a priority to deliver further improvements and the County Councils of Kilkenny, Carlow and Wexford have been joined by Waterford city and County in 2021, all with the same mission of optimising their energy efficiency actions.
"3CEA work in collaboration with the Local Authorities to evaluate, pilot and deliver great energy and carbon saving projects across their own building, public lighting & transport stock. The role of the Local Authorities to lead by example and good examples of this partnership are projects being delivered through various national grant programmes such as the Department of Environment, Climate & Communications Climate Action Fund and the SEAI's Community Energy Grants. These are led by the Local Authorities, coordinated and managed by the Energy Agency, who are working with the many SME's, communities and homeowners delivering projects right across the south east. This model of partnership is key to our success and to the success of the energy transition in the South East. The Local Authorities are playing their part and have met their own 2020 targets, with projects planned to ensure they meet the more ambitious 2030 targets. We, that is society as a whole, need to change our behaviour and our reduce our reliance on imported fossil fuels.  Everyone must play a part and 3CEA are here, to offer independent advice to all who want to make a difference," said Alex Hamilton, 3CEA Senior Engineer.
YOU COULD LAP WEXFORD 43,000 TIMES WITH ENERGY SAVED
Wexford saved 269 million cups of tea or the amount of energy used by a typical family petrol car doing 43000 laps of the Wexford county boundary, reducing CO2 emissions by 2149 tonnes through avoided energy use, delivering a saving of 39.7%. The spectrum of projects and initiatives implemented by the Wexford County Council to achieve energy efficiency include the public lighting energy efficiency project whereby 91% of public lights across the county were replaced with more energy efficient LED bulbs. This gave a 65% reduction in energy use and 60% savings in operation and maintenance costs. Energy upgrades in Bunclody Fire Station, Gorey Library and the Council's Machinery Yard all delivered substantial energy savings. The Council has also started transitioning their fleet to electric vehicles to further support the national policy and decarbonise local communities making them healthier and better places to live in.
Carolyne Godkin, Director of Services, Wexford County Council said 'we are strongly committed to continuing our journey to improve energy performance across all of our services. ISO50001 certification of our energy management system will help us deliver the target of 50 % improvement in energy efficiency as set out in the National Climate Action Plan.  The projects and initiatives implemented by the Council and our Energy Team to date has achieved energy efficiency of 39 %; above average for all public bodies who are 34% more energy efficient than in 2009' 
3CEA CEO, Paddy Phelan added that "while local authorities in the region have done much to achieve lower C02 emissions by 2030, individual counties working under the Sustainable Energy Action Plans need to step up across Transport, Agriculture, Industry and Community."