Exhibition: An exhibition of Coastwatch citizen scientist shore surveys and follow up action, supported by the Rosslare Municipal District of Wexford County Council.  It focuses on our most biodiverse shallow waters and coastal land, from sketch of the European rim down to detail of a shore in Kilmore.  Exhibition modules cover highest nature and blue carbon features, close encounters with otters, as well as marine litter, shore erosion, flooding and other challenges captured by citizen scientists.  Some Threats, concerns and position action results are included to focus the viewer's mind on what is needed and inspire more action. 
Opening Times:  The exhibition will be open to the public weekdays Feb 1st to 10th 2023 2023.
Events 2.2.23: The Austrian Ambassador HE Thomas Nader, will open the exhibition on World Wetlands day Thursday 2nd Feb. This will be followed by an address by Tobias Salathé, Ramsar Convention European Office, a workshop on coastal wetlands and climate change and fieldtrips. The day ends with a music and spoken word session to celebrate wetlands.
Exhibition Aims:
To contribute to interest, knowledge, love for and understanding of our coastal zone.
To help clarify who is in charge of what - to protect, restore and manage  the coastal zone. 
To support an informed participatory coastal zone management and restoration approach.
To celebrate citizen science and the information and understanding it can bring. 
Content and Design
A core exhibition both informs about citizen science and draws the visitor from a sketch of European waters further and further in to finally admire a square meter of intertidal South Wexford shore bursting with life and signs of past life.  Around this exhibition 'back bone' specific riches or problems are displayed, with Coastwatch data, links to SDGs, legal and policy information. A 'what you found' and a 'Guess what' area add to engagement.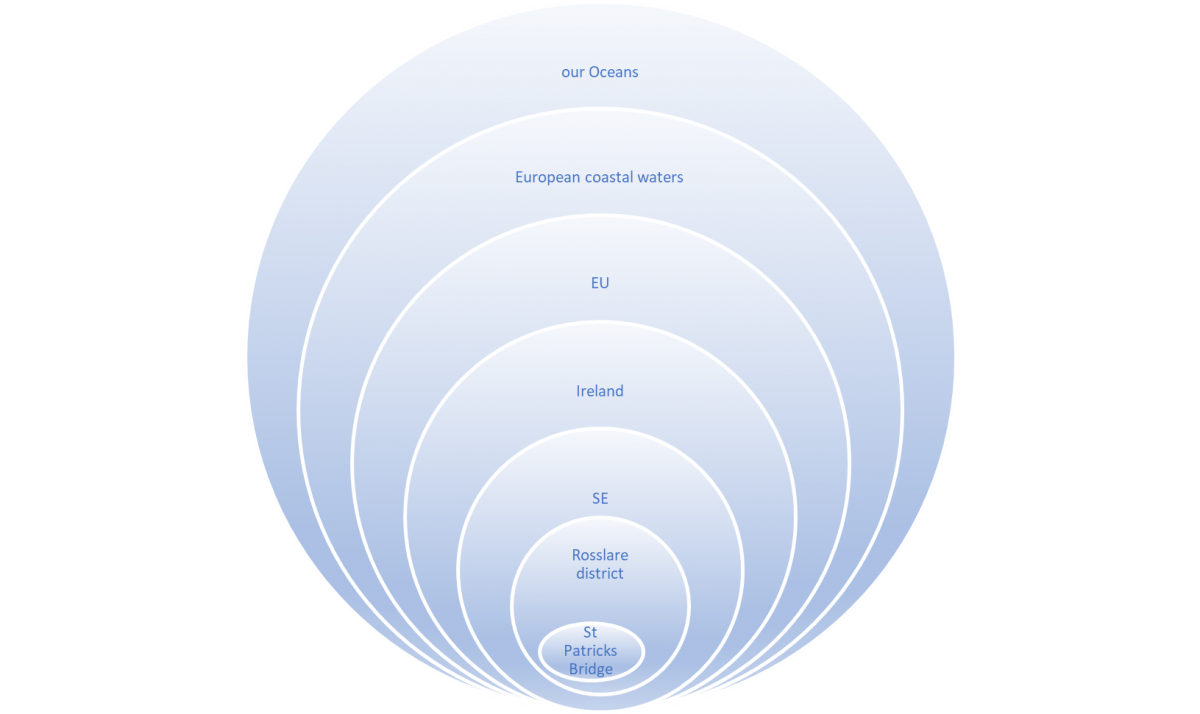 Programme Feb 2nd World Wetlands Day 
Venue: Wexford County Hall, Carrick lawn except for fieldtrips 
10.30am Registration: coffee and a first look at the exhibition
11.00am Welcome and Introduction by Wexford County Council and the Rosslare District, A brief word by Coastwatchers & Department of Housing as sponsors of the Coastwatch survey.
11.20am Exhibition Opening by HE Thomas Nader, Austrian Ambassador.
11.30am Workshop on Wetland protection, Restoration and Climate Change Adaptation Introduction and Facilitating: Brian Trench Science communicator and author
Key Note Address: Celebrating World Wetlands Day and Wetland Restoration, Tobias Salathé, Senior Adviser to the Ramsar Convention on Wetlands Q and A.
12.00 noon Light Lunch hosted by Wexford County Council.
12.30pm What are our wetland protection and restoration priorities in Ireland Short Presentations and Panel Discussion:
Panellists consider (i) action needed to protect and restore coastal biodiversity and blue Carbon.   
(ii) action to mitigate/adapt to climate change in the CZ and (iii) public/landowners backing for action. 
Panellists:  
Jana Cox, coastal sediment transport PhD cand., Utrecht university;  
Karina Fitzgerald, Marine Planning, Department of Housing, Local Government and Heritage
Conall O'Connor, Marine Environmental Policy, Dep. of Housing, Local Government and Heritage
Dept of Agriculture and National Ramsar Wetland Committee, tbc
Gerry Forde, Senior Engineer, Environment Wexford County Council
Audience Questions and Discussion.
2.10pm Conclusion and Close. Eamonn Hore, Deputy Chief Executive and Director of Services, Wexford County Council 
2.15pm Introduction to Fieldtrips.
2.20pm Leave County Hall, lift sharing to one of two venues:
North Slobs Ramsar site and Nature Reserve bird hide based for families and for viewing birds with experts. Meet in the Centre Car park at the Pump house. 
Coastal Farmland: Joint fieldtrip with Teagasc suitable for coastal farmers, scientists, eNGOs and shore planners/managers. (Wellies and rain gear essential)
5 to 7pm Warm drink welcome to the International celebration of World Wetlands Day – short fieldtrip feedback, songs, music and spoken word with light refreshments.
Event Contacts: