All of the mobile apps can be viewed on any tablet or smartphone.
The currently available apps include -
Wexford Walking Trails 
Eurovelo 1 Cycling Route 
Accessible Parking
Wexford Harbour Navigation 
Planning Applications
Other apps will be rolled out over the coming months.  If you have any comments or suggestions on the apps available, please email gis@wexfordcoco.ie.
Accessing the apps on you tablet or smartphone
In order to view any of the apps on your smartphone, you will need to download the Explorer for ArcGIS app by Esri. The app is available on the Playstore (Android) and iTunes store (Apple). This app is free!

Step 1 - Download the app
The video below shows how to download the app on the Playstore - note that you do not need to sign in - there is an option to 'Proceed without signin' at the bottom of the screen.
View the video below to find out how to download an app from the playstore.
Step 2 - Find the Maps
Once the app has been downloaded, access the menu (top left) and select 'Find maps'. Type  Wexford in the search bar and all of the maps available for Wexford will display.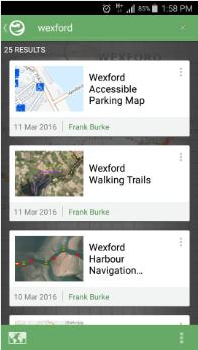 Step 3 - Using the map viewers
The video below will show you how to use the Wexford Harbour Navigation map.  All the other maps have similar functionality and operate in a similiar way. 
Download Explorer for Arcgis app is available to download from Android playstore