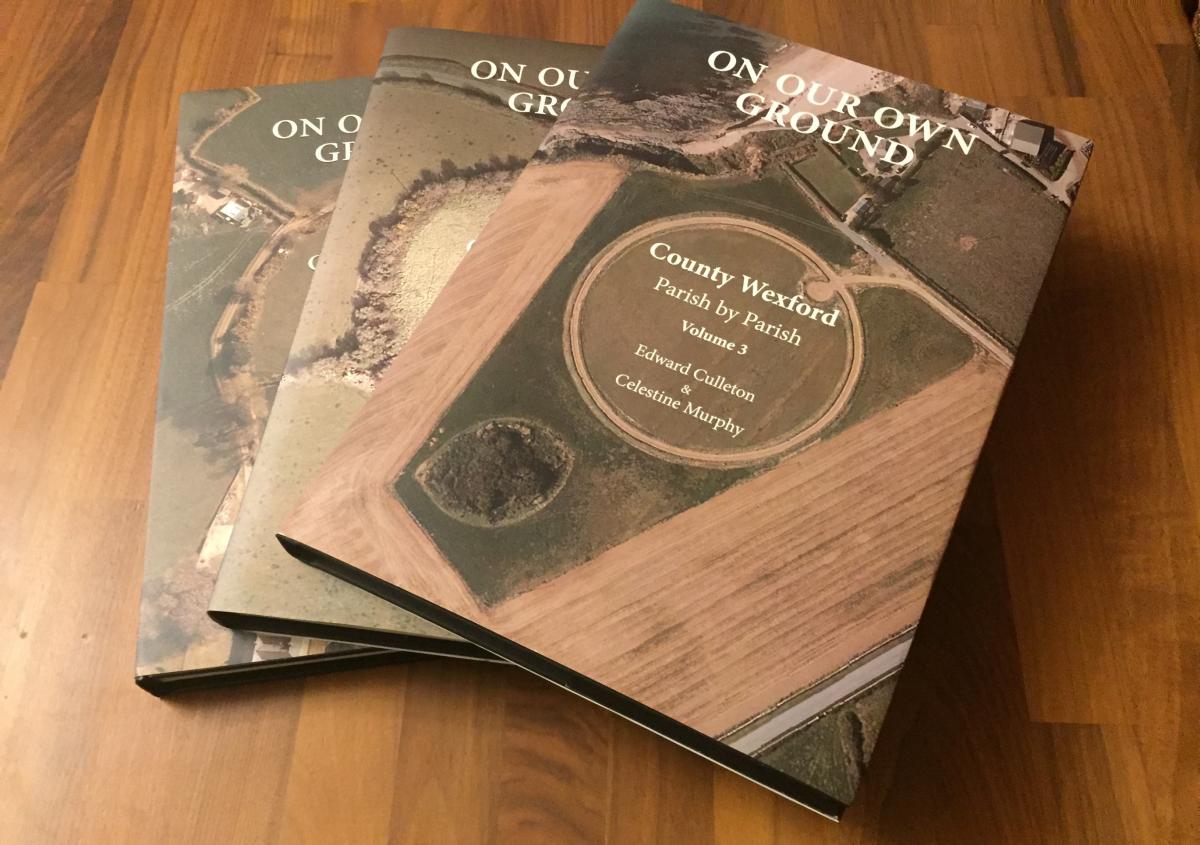 On Our Own Ground: County Wexford Parish by Parish, Volume 2 and 3 written by Dr. Edward Culleton took place online 28th January 2021.
Two new volumes of the publication On Our Own Ground: County Wexford Parish by Parish was launched by Dr. Patrick Prendergast, Provost, Trinity College Dublin on Thursday 28th January.
This three volume series, written and compiled by Dr Ned Culleton, with contributing editor Celestine Murphy, is a stand out publication that details the built and natural heritage of County Wexford through the centuries. It is beautifully illustrated with colour photography, drawings and maps to compliment the detailed text. 
On Our Own Ground provides researchers and local people with a record of the landscape, archaeological sites, industrial, commercial and domestic buildings, and other man-made objects that dot the Wexford countryside. The books showcase the impact man has made on the landscape and his contribution to the heritage of our localities.
Read Dr Patrick Prendergast, Provost & President, Trinity College Dublin speech here 
Listen here to Dr Ned Culleton
Publication Content and Parameters
As many people are most interested in the heritage of their own areas, the parish and townland are the basis for this book's design. The parish is 'our own ground' the one area we know best, to which we belong, where who we are matters. It is the place where every field, stream, hill and valley is known and is part of our lives.
The parishes referenced in On Our Own Ground, are the modern Catholic parishes and parts of parishes that lie within the County Wexford boundary. As Dr Culleton notes in the introduction, the use of the Catholic parish unit, as a vehicle for conveying information, is based on practical considerations of useful geographic size, local familiarity with the landscape, and on community and sporting allegiances within each area. 
Parish by parish, On Our Own Ground gives brief descriptions on all significant man-made and natural places of interest in the county. A guide to sources is listed at the end of each parish section for those who wish to do further research. One crucial addition is the inclusion of clear mapping references, to pinpoint each site with precision.  
Within the parish, the townland, the smallest administrative territorial unit in the county, provides the most intimate connection between the landscape and its people. The townlands system is of Gaelic origin, many predate the Norman invasion, although their number, boundaries and names have been considerably altered over time. Some townland names still bear the family name of the early occupiers of the land, for example, Ballybrennan translates as 'the place of Ó Braonáin'. It is through this historical interaction between the landscape and its people that the modern countryside, with its rich legacy of archaeological monuments, has evolved. 
Within County Wexford there are forty-five parishes and seven parts of parishes from bordering counties, and almost 3,000 townlands. Volume two and three, complete the three volume series. A cumulative index has been added to volume three.
Contributors
Dr Ned Culleton, a native of Piercestown, is a graduate of NUI Maynooth and of Trinity College Dublin. A former soils scientist with Johnstown Castle, university lecturer and EU research manager in Brussels, Dr. Culleton is the author of several books, including Wexford's Industrial Potential, The South Wexford Landscape and Celtic and Early Christian Wexford.
Celestine Murphy, the series editor and co-author of volume three is a local historian and retired librarian with Wexford County Council Library Service.
The production of these volumes was project managed by librarians Hazel Percival and Susan Kelly and with the Geo-mapping coordinated by Catherine Kavanagh, Head of Information Services, Wexford County Council and her team.
The Council's Wexford Studies Publications Programme
Wexford Public Library Service has already published definitive books about the towns of New Ross and Enniscorthy and the On Our Own Ground series now aims to provide an abundance of information on the rural landscape in the County.
Wexford County Council won the "Supporting Active Communities" 2014 award at the Chambers Ireland Excellence in Local Government Awards for the first volume of this publication. The judges said that the Wexford project was meticulous in its detail and inclusive of all communities across County Wexford. It offered a model that could be replicated countrywide to create a national record of major importance.
On Our Own Ground: County Wexford Parish by Parish, Volumes 1, 2 and 3 can be ordered online from selected bookshops and is available from bookshops in County Wexford, price €30 each.
On Our Own Ground, County Wexford - Parish by Parish Volume 1
by Edward Culleton editor: Celestine Murphy
ISBN: 978956522153  
Colour Illustrations, maps & photos; 296 pages.
Published: Wexford County Council Public Library Service 2013
Printed by City Print, Cork.
€30
On Our Own Ground, County Wexford - Parish by Parish Volume 2
by Edward Culleton editor: Celestine Murphy
ISBN: 9780993337826
Colour Illustrations, maps & photos; 304 pages.
Published: Wexford County Council Public Library Service 2019
Printed by City Print, Cork.
€30
On Our Own Ground, County Wexford - Parish by Parish Volume 3
by Edward Culleton and Celestine Murphy.
ed: Celestine Murphy
ISBN: 9781916252301
Colour Illustrations, maps & photos; 336 pages.
Published: Wexford County Council Public Library Service 2020
Printed by City Print, Cork.
Volume 3 contains a full index for the 3 volume series and a listing of all known Lime Kilns in the county with map references.
€30