What is Reuse Month?
October is Ireland's National Reuse Month.  Reuse is about valuing our stuff, by using and reusing it for as long and as often as possible. This avoids the need to extract raw materials, manufacture and distribute new stuff, and avoids waste thereby cutting down on greenhouse gas emissions. Why not make a commitment to reuse as many things as possible to save the environment.
Check out the calendar of events which are taking place nationally here.
          
Throughout October we encourage all to either attend or organise an event to celebrate National Reuse Month. The idea is to bring people beyond the idea of 'reduce, reuse and recycle' to a more conscious prevention of waste in the first place. If you are organising and event we invite you to use the official artwork which you are download here
            
        
Upcoming local events 
Wednesday 26th October 
Wexford Clothes & Halloween Costume Swap
Join us for a clothes swap event, Barntown Community Centre, Barntown on Wednesday 26th October from 6.30 pm until 8 pm
6.30 pm – 7 pm                 Bring up to 5 pieces of clean adult clothing (in good repair) and / or up to 5 pieces of children's Halloween costumes in (good repair) and swap it for a voucher for the same number of pieces.
7.00 pm – 7.30 pm            Clothing Repair Demonstration
7.30 pm – 8 pm                 Let's get swapping
Come along for this chance to upgrade your wardrobe. Reusing our items is a positive climate action that we can all do simply.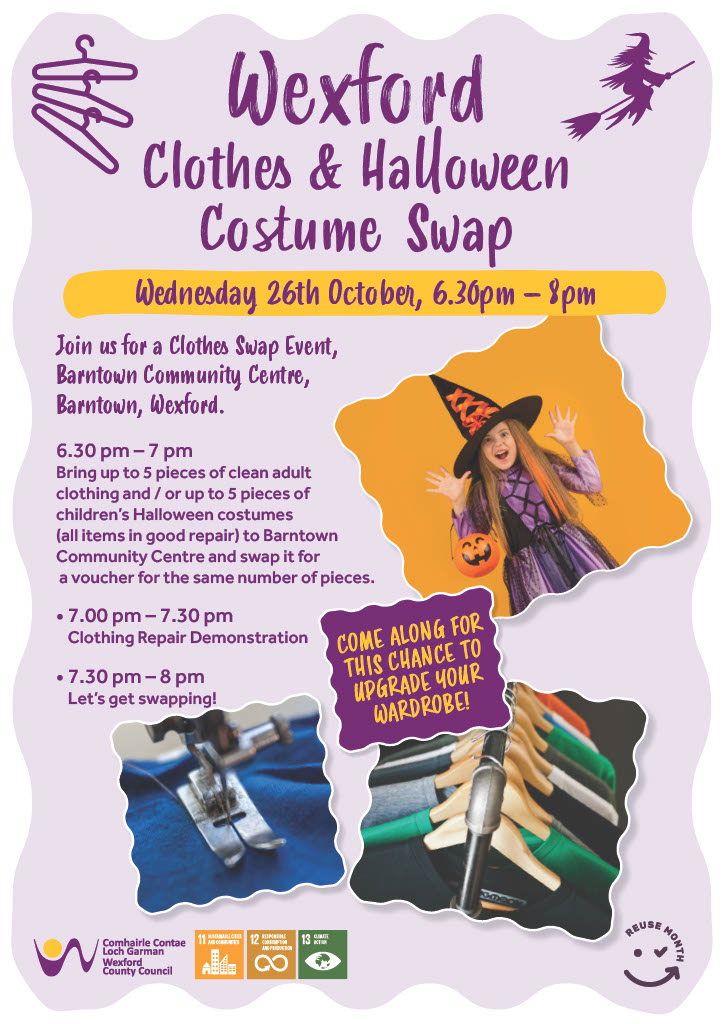 Upcycle Challenge
The Upcycle Challenge is an annual competition that encourages people to look at the objects around them, and give them a new lease of life. The challenge is simple; find something that is no longer in use and transform it into something new. There are lots of things that we can repurpose with a bit of thought and attention. You can enter your creation into the national competition here.
               
              
            
How can I get involved?
National Reuse Month's aim is to inspire you and provide you with the skills and tools to reuse more at home, at work and at play.
Check out the MyWaste site for some tips and suggestions