Access your library 24/7. Online resources include eBooks, eAudiobooks, eMagazines, eNewspapers, eComics & Graphic Novels, music, take eLearning or language courses, business, education and research databases and more.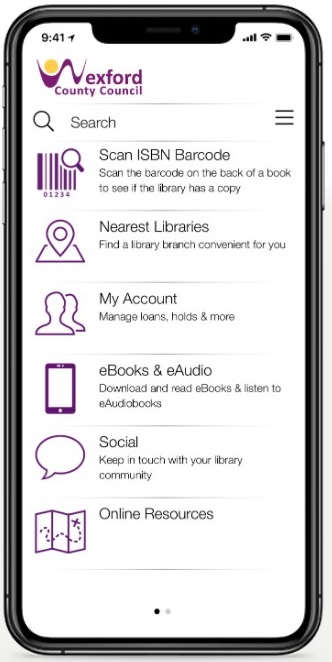 Wexford County Council Public Library Service now has its own library app. The Library App is user-friendly, so you can discover new experiences, online content, and so much more, quickly and easily. 
The new app offers access to the library catalogue and to the library user's account, so you can reserve and renew items from anywhere once you have Internet access.
Families with numerous cards can keep the entire family's account details in one place, with loans and requests for everyone available at a glance. 
The online library and library social media platforms, news and our library events calendar are available in one place. eBooks, audiobooks, music, magazines, courses as well as other resources can be downloaded directly to your device.
Using the app it is easy to find your nearest library, with directions via Google maps along with opening hours and contact details.
The app is contactless, safe and hygienic. It allows library members to simply tap the item they wish to borrow with their smartphone and the item details are registered to their account.
The Library App is available on both Google Play and the Apple Store, just search for 'Wexford Libraries' and download for free. 
You can also find the app by visiting https://www.yourlibraryapp.com/WexfordLibrary
For further information, contact your local branch library
Bunclody library             053 9375466      
Enniscorthy Library        053 9236055      
Gorey Library                 053 9483820      
New Ross Library          051 421877        
Wexford Library             053 9196760      
North Mobile Library      087 4175810    
South Mobile Library     087 4176014
 
The funding for the app was approved by DRCD as part of Healthy Ireland.